Labour markets in India over the next five years are expected to witness a job churn lower than the global average, a recent report released by the World Economic Forum shows.
The report, Future of Jobs, which maps the jobs and skills in coming years and tracks the pace of change, says the Indian labour market will witness a 22 per cent job churn, compared to 23 per cent worldwide.
'Labour-market churn' refers to the expected job movement, including new roles being created and existing roles destroyed, as a proportion of current employment.
This excludes situations where a new employee replaces someone in the same role.
The report by the international advocacy group brings the perspective of close to 800 companies in 27 industry clusters and 45 economies from all world regions.
More like this
Employment In Urban India: Good News!
India's Employment Rate Lower Than Pak, Bangladesh
The churn in Indian labour markets will be led by technology-driven sectors like artificial intelligence and machine learning (38 per cent), followed by data analysts and scientists (33 per cent) and data entry clerks (32 per cent).
On the other hand, labour-intensive sectors like accountants and auditors (5 per cent), operations managers (14 per cent), and factory workers (18 per cent) are expected to witness the least churn.
Globally the churn is expected to be led by supply chain and transportation, and media, entertainment and sports industries, resulting in the creation of 69 million jobs and a decline of 83 million jobs, leading to a net decrease of 14 million jobs, or 2 per cent of current employment.
The tasks are seen as no more automated now than they were three years ago, when the report was last published.
'About a third of tasks (34 per cent) are currently automated, just 1 per cent above the 2020 figure. Surveyed companies also revised down their expectations for further automation, to 42 per cent of tasks by 2027, compared to 2020 estimates of 47 per cent of tasks by 2025,' it noted.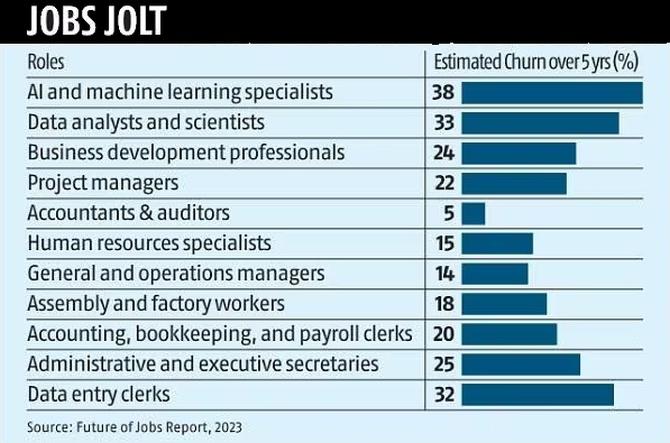 Besides, 61 per cent of the respondent Indian firms say broader applications of environmental, social and governance (ESG) standards will drive job growth, followed by an increased adoption of new and frontier technologies (59 per cent), broadening digital access (55 per cent), and investment induced by climate change (53 per cent).
In terms of the impact of technology on job creation, the report notes that 62 per cent of the firms believe that big-data analytics is going to have the most significant effect, followed by encryption and cybersecurity (53 per cent), digital platforms and applications (51 per cent), and e-commerce (46 per cent).
The report further notes India is among the seven countries, including Brazil, where social jobs — those in care, education and health care — which play a vital role in societal well-being and social mobility, grew at a slower pace than non-social jobs since the pandemic.
When comparing countries' viewpoints on talent availability at the time of hiring, the report finds the most populated countries such as China and India are more positive than the global average.
And in terms of business practices to improve talent availability, 52 per cent of the firms think that improving promotion processes and talent progression is more effective than providing effective reskilling and upskilling (36 per cent).
The report says 97 per cent of the respondent firms in India are of the opinion that funding by their own organisation is the most effective strategy to fill the gap between workers' skills and future business needs, whereas only 18 per cent believe that training should be funded by the government.
Feature Presentation: Rajesh Alva/Rediff.com